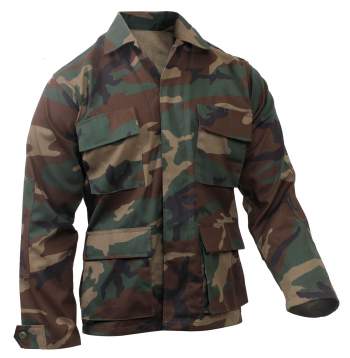 Want to become a Rothco Dealer?
Rothco's Camo BDU Shirts are designed for tactical use with undeniable comfort and unbeatable durability.
Concealed placket on the button up shirt covers front buttons to retain warmth
Tactical shirt features adjustable button-tab wrist cuffs so you can find the perfect fit
Military shirt is made from a rugged and reliable cotton blend with double stitched seams that are built to withstand tactical wear-and-tear
Reinforced elbows on the military tactical shirt provide both additional protection and enhanced durability
Four pleated front cargo pockets are secured with button closures for storing EDC (everyday carry) items
Left chest pocket on the tactical long sleeve shirt features an open-top pocket for easy access to small items
Modeled After The U.S. Military's Standard Issue Battle Dress Uniform (BDU)
55% COTTON / 45% POLYESTER, MultiCam Fabric: 65%Polyester /35% Cotton





Write a Review
Outdoor Retailer: These BDUs are F.A.N.T.A.S.T.I.C. sellers! They are comfortable and durable and the fit is true to Rothco's sizing chart. Excellent detailed construction. This product generates repeat customer purchases.
This item will be used on up coming episodes of CMT's "My Big Redneck Wedding".
Great camo pattern, well made very hard wearing in trying enviroments. One of the most pouluar camo patterns now in New Zealand.