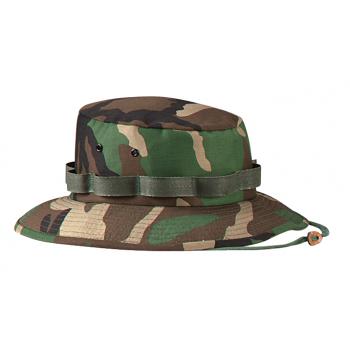 Want to become a Rothco Dealer?
Protect yourself from harmful sun rays while you are hunting, fishing, and/or camping with Rothco's Camo Jungle Hat.
The Camo Jungle Hat Provides Optimal Protection From The Sun And Is Great For Hunting, Fishing And/or Camping
Branch Loops Around The Military Jungle Hat Allow The Addition Of Leaves And Branches For Extra Camouflage
Made Of A Lightweight And Breathable 55% Cotton / 45% Polyester Material
Army Jungle Hat Features An Adjustable Chin Strap For The Perfect Fit And Feel
4 Screened Side Vents Are Designed To Keep You Cool
Available In A Variety Of Camouflage Patterns And Sizes
Cotton, Polyester, Rip-Stop
55% Cotton, 45% Polyester





Write a Review
These are cheaply constructed, blocky, and gaudy beyond belief. Good Lord how thee tourists love them. We sell them at a discount price and can NOT keep them in stock. For only 50 cents less than the "Classic" line, however, I do wish they were a bit better constructed.