March 17, 2018 11:50 am See On Instagram
March 17, 2018 7:55 pm
What's your favorite tool? #RothcoGear — Products shown: Rothco G.I. Type Mechanics Tool Bag With Brass Zipper, Rothco Extra Heavyweight Buffalo Plaid Flannel Shirts, Rothco Big John Leather Work Gloves, Rothco Field Watch, Rothco Multi Tool and Rothco Military Marching Compass. See Post
March 18, 2018 11:14 am
Ever wanted to train like a tactical athelete? Check out this great article and find out how!… See Tweet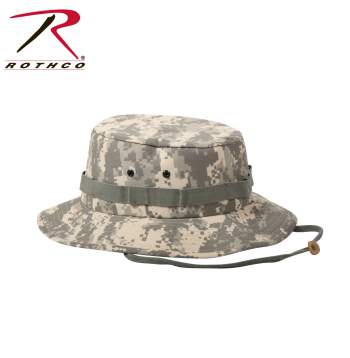 Want to become a Rothco Dealer?
Rothco Camo Jungle Hat feature side vents to keep your head cool, branch loops that allow you ability to add additional camouflage, a chin strap and is constructed with a Poly/Cotton material. The jungle hat comes in a variety of camouflage patterns and in select sizes available in up to 2xl.
Cotton, Polyester, Rip-Stop
55% Cotton, 45% Polyester





Write a Review
These are cheaply constructed, blocky, and gaudy beyond belief. Good Lord how thee tourists love them. We sell them at a discount price and can NOT keep them in stock. For only 50 cents less than the "Classic" line, however, I do wish they were a bit better constructed.