June 24, 2017
7:06 pm
See On Instagram
June 25, 2017
8:05 pm
Our Equipment Duffle Bag has been highlighted as one of Highsnobiety Top Ten Duffle Bags! You can view that bag right on our site, here: https://www.rothco.com/product/rothco-canvas-equipment-bag See Post
June 25, 2017
8:00 pm
Need some ideas on what to wear this summer? Check out our blog on the hottest summer items:… See Tweet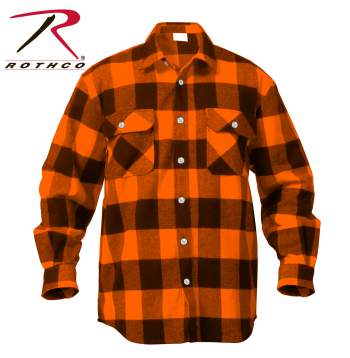 Want to become a Rothco Dealer?
Rothco's Extra Heavyweight Buffalo Plaid Flannel Shirts are a 100% cotton heavyweight flannel that provides unbelievable warmth and comfort. The plaid shirt features a button up front and two button flap pockets.
C: 20.75 - 28.25 S: 24 3/8 - 26.25 B: 30.25 - 34.25





Write a Review
Good shirt. It does shrink, so order one or two sizes up.
how about yellow and black
Many international requests for these shirts -- especially in red and blue. But do need more numbers in sizes small and medium.
Wonderful shirt, International buyers love all colors! Too bad small is not available have alot of requests for the size.