July 11, 2020 12:00 pm
The tools you are looking for. Shop survival tools: https://www.rothco.com/category/rothco-military-and-tactical-gear See Post
July 11, 2020 10:00 am
"OPM Should Take a Lesson From the Army" Read more: # # #See Tweet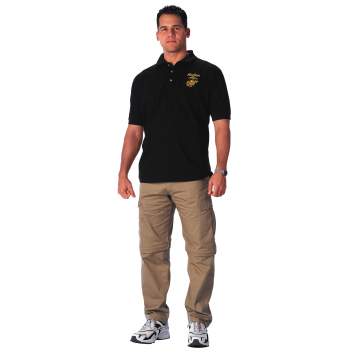 Want to become a Rothco Dealer?

Rothco's USMC Moisture Wicking Embroidered Polo features an embroidered Officially Licensed United States Marine Corps globe and anchor emblem.
Officially Licensed USMC Embroidered Polo
Dryblend performance fabric wicks moisture away from the body
Classic Polo Shirt Style With welt-knit collar and cuffs
Double-needle stitched hemmed bottom for long Lasting Durability
3 woodtone button plackets
50% Cotton/ 50% Polyester
Officially Licensed Product of the United States Marine Corps.
L: 30.5 - 36 S: 16.5 - 30 Sl: 10 - 13.25