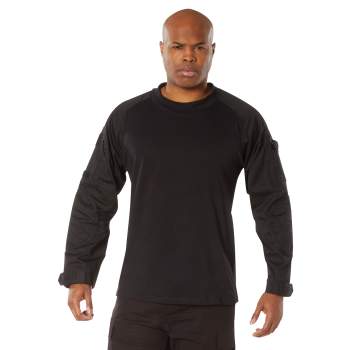 Want to become a Rothco Dealer?

Rothco's Combat Shirts Are Made For Comfort But Worn For Protection.
Combat Shirt Is Made Of A No Melt, Drip Resistant Fabric To Withstand Heat Up To 230 Degrees Fahrenheit (Chest and Back Material)
Lightweight And Breathable Fabric Will Wick Moisture Away, While Keeping You Dry
Nylon Cotton Rip-Stop Sleeves
Built for Action With Anti-Abrasion Padded Elbow Patches, Gusseted Sleeves
Glint Tape Holder For Tape, Loop Field On Sleeve Pockets For Attaching Name, Rank & Flag Patches
Perfect For Military And Tactical Personnel In The Field To Wear Under Hot, Heavy Body Armor And Tactical Vests
Hook & Loop Adjustable Cuffs
Mock Turtle Neck design
Moisture Wicking, Zippered Sleeve Storage Pockets, Anti Abrasion Padded Elbow Patches, Gusseted Sleeves, Glint Tape Holder for IR Tape, Loop Fields on Sleeves for Name, Rank and Flag Patches
Sleeves - 50% Nylon / 50% Cotton, Body - 40% Acrylic / 60% Cotton, MELTING POINT IS RATED TO 230 DEGREES FAHRENHEIT





Write a Review
Excellent shirt and great quality: Pros: Light weight, Strong Material, Effective and comfortable in all temperatures, works great under armor.
Great Shirt! Great Value! Great Seller!
These shirts are great, please start making these shirts in digital snow camo.
I love these shirts, it does all it says. Lots of colors and durable. I?d like to see them with a polo shirt type of collar someday.
Great shirt, the desert digital camo is ideal for where we live. Border ops like it too.
great combat shirt but should make one in safety orange for hunting and construction work!
great product. I would recommend this shirt to anyone looking for a rugged and versatile combat shirt.
@MilitaryZone.ru - We hope to have an answer to the export situation in early 2011.
Very popular and high quality product! When will it be available for export? Thank you!
Still waitting for a OD Green! What Gives?
Great product for hotter climates and very comfortable underneath a plate carrier. Definitely looking forward to other colors, fast!
I recently purchased this shirt. This is a good product. I would like to see this in other patterns and OD Green and Black.