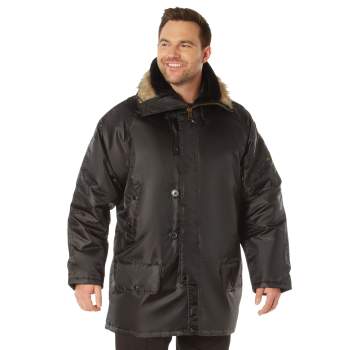 Want to become a Rothco Dealer?
Rothco's N-3B Parka is designed to protect from the most extreme and harsh cold weather.
Military Style Parka Made With A Water-Repellent Nylon Shell Defends Against Extreme Cold Weather Conditions Including Snow and Rain
Heavyweight Interior Filling Provides Enhanced Warmth And Protection
Classic Snorkel Hood Zips Up Past Your Neck, Leaving A Small Tunnel Or "Snorkel" To Look Through
Heavy-duty Brass Zipper With Added Button Closure Storm Flap
Elastic Knit Wrist Cuffs Inside The Sleeves Insulate To Block Cold Weather Elements
Soft Lined Hood With Faux Wool-Fur Collar
4 Front Snap Closure Pockets (2 upper chest slash pockets / 2 lower waist pockets)
Zipper Utility Sleeve Pocket With Two Pen/Pencil Pockets
Adjustable Drawstring hood
Drawstring Waist
Polyester Lining
100% Nylon Outer, Polyester Lining





Write a Review
I recently bought this jacket and I love it. I didn't want a thick, bulky, jacket that was difficult to drive in and this works great. Its a little thinner lined than some N-3B coats which makes it much easier to move around and do things without feeling like you are wearing a big heavy coat. Its very warm and the hood is well insulated and lined with a very plush fur like material. The fur wicking on the hood is not too thick, again, what I like as my N-2B from another manufacturer actually has too much fur and I find it a big annoying. This is perfect, it does what its supposed to but its not getting in your face all the time.I like how the cuffs of the coat come down over the elastic knit inner cuffs to keep your hands warm even without gloves. As with all winter gear, you should wear a sweater under this coat and I find by pulling up the slack and tying each end of the drawstring into a big knot eliminates the need to tie it every time you put the coat on and keeps the wind from coming up underneath the jacket. Highly recommended for comfort, warmth and definitely price!. You can pay more for a N-3B, but unless you live in the Arctic, I highly doubt you will need anything more than this. I live on the coast of the North Atlantic and I know cold weather. I bought this because the icy Atlantic winter winds are getting really frigid. Problem solved. BTW, Hogan's Alley Paintball filled my order for Rothco and their service was excellent, including a follow up email to ensure I was happy with the coat and if not, to advise them and they would send me a return label asap. Can't beat that for service.
I have owned and worn during the winter my ROTHCO 9390 N-3B Parka for the past 12 years. I own a munitions company and work with machinery on a daily basis so this parka gets a work out every winter. I get it dirty and must wash it at least 5 times during the winter. This is the most awesome parka I have ever owned. It has stood up to much abuse in my work and to this day has never torn or frayed. Every year I say I need to purchase a new one and really should. Great job Rothco and thank you for your products.
Great seller, not a single complaint!