July 25, 2017
9:08 pm
See On Instagram
July 25, 2017
8:42 pm
Rothco Plate Carrier Vests - Built and Designed for Duty. Check out more of our tactical and plate carrier vests here: https://www.rothco.com/category/rothco-military-tactical-vest See Post
July 26, 2017
8:55 am
Find out what makes our Jumbo Vintage Canvas Backpack the best # bag! See Tweet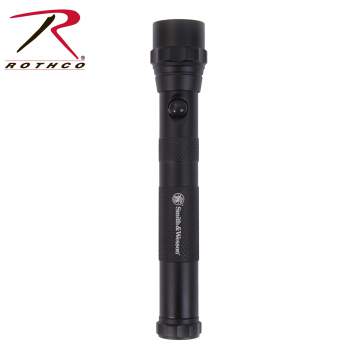 Want to become a Rothco Dealer?
The Smith & Wesson 2AA 129 lumens LED Flashlight is a lightweight, matte black, aluminum flashlight that is designed for general use. With a beam distance of 58 meters & a run-time of 2 hours and 40 minutes, it's a great flashlight to have at home or to take with you.
Length: 6", Head Width: 1", Barrel Width: .75"
129 Lumens, 58 Meter Beam Distance, LED Lasts 50,000 Hours, 129 Lumens, 58 Meter Beam Distance, LED Lasts 50,000 Hours